Last week, the Paris-based electronic music duo Daft Punk announced their split after making music for the better part of three decades. Here's a look back on their music catalogue.
Daft Punk was formed in 1993 with Guy-Manuel de Homem-Christo and Thomas Bangalter working together as a duo. After years of using different face coverings at live performances, they settled on gold and silver robot helmets as their official calling card.
In 1997, the duo caught their big break with the international success of their debut album Homework. The album featured the songs Da Funk and All Around the World, which climbed the charts globally.
Daft Punk are recognised alongside musicians and acts like MF DOOM, Sia and Gorillaz for the characters they create. Daft Punk have said in interviews that they wear masks to divert attention away from them as individuals and to shine a spotlight on their music alone. In the late 90s, sex appeal and marketability drove the charts, Daft Punk acted as the perfect foil to this practice.
After taking a few year's break and dropping a live album called Alive 1997, the duo returned in 2001. Their second album Discovery is often regarded as their best work. Discovery incorporated elements of Japanese manga/anime in its art direction. On the music side, Discovery featured throwback disco on top of its electronic music foundation.
Songs like One More Time and Something About Us became permanent fixtures in the electronic music scene. Daft Punk's influence also bled through into other genres.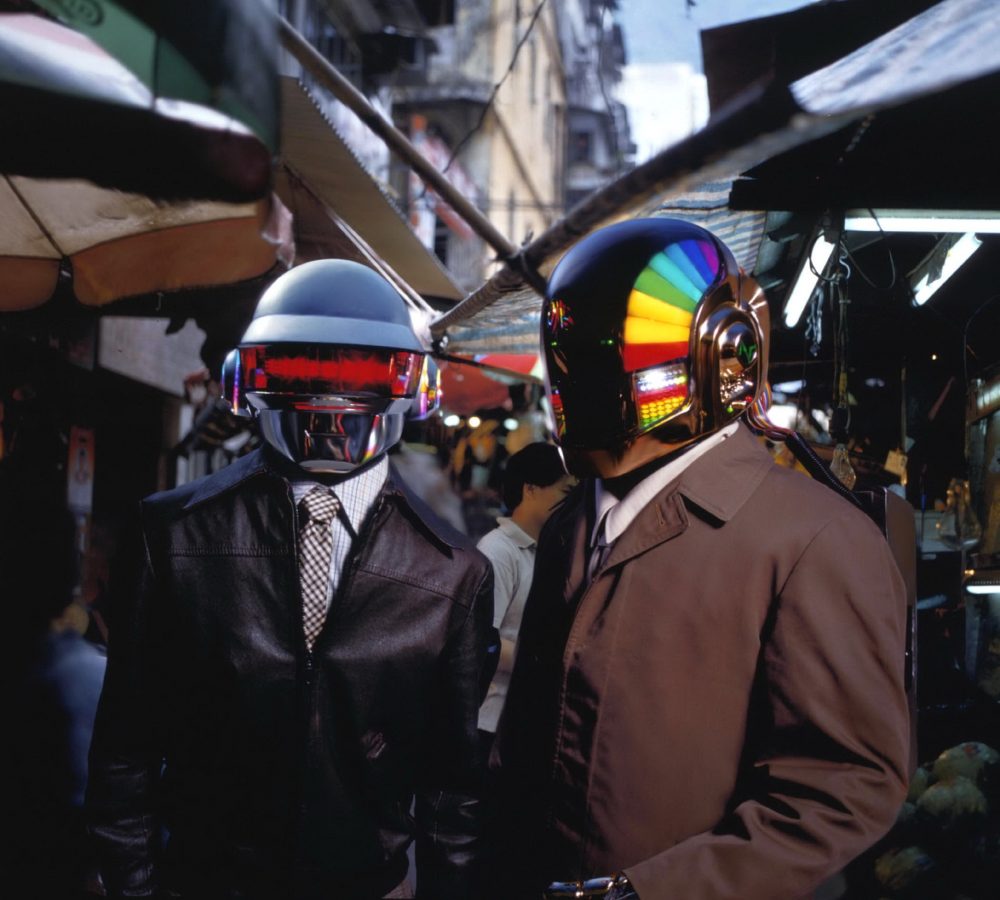 In 2007, rapper and producer Kanye West collaborated with and sampled Daft Punk for his 2007 number one single Stronger. Stronger incorporates elements of their song Harder, Better, Faster, Stronger. The chrome-clad duo also cameoed in the music video.
Daft Punk's penultimate studio album Human After All arrived on store shelves in March of 2005. While not as well-received as their first two, the album was certified 2x Gold in France and Silver in the UK. The songs Technologic and Robot Rock ascended the UK Dance charts.
In 2013, Daft Punk's fourth and final LP Random Access Memories was released. This album came equipped with their biggest song to date, Get Lucky featuring Pharrell Williams and Nile Rodgers. This album helped cement Daft Punk's name for a new generation of listeners. Before RAM, a majority of their most notable work was from the 90s and 2000s.
The last major project the duo worked on together was in 2016 on The Weeknd's album Starboy. They produced a handful of the songs on the tracklist such as I Feel It Coming and the title track.
Sadly, on February 22 2021, Daft Punk's publicist announced their split via a short video clip online. The group will be best remembered for their live shows, progressive and futuristic art direction and timeless music.