Around 200 people gathered at All Saint's Church to watch Irish musician, Hozier, play an intimate set last night in partnership with Banquet Records for the upcoming release of his new album 'Wasteland, Baby!' which fans have been waiting five years for.
This was the first time the 'Take Me To Church' singer has played a set for Banquet Records and the cosy venue felt fitting for the setlist filled with emotionally driven songs about love, activism and the end of the world.
The initial 8pm showing sold out in under five minutes and a second set at 6pm was added.
The singer performed a new song called 'Almost (Sweet Music)' , a single that was released in January and is part of the upcoming album which will be out on March 1.
Before singing 'NFWMB' (nothing fucks with my baby), the singer revealed that for that song, he was highly influenced by the Irish poet Yeats and one of his poems about the end of the world.
A member of the audience pointed out he had sworn in a church, to which he replied that in the next three minutes he would be solidifying his place out of heaven, clearly referencing some of his anti-religious lyrics and themes to his work.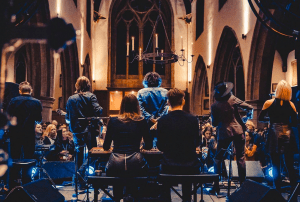 Hozier's band left the stage for him to perform two songs solo and acoustically, 'Cherry Wine' and 'To Be Alone', both of which were executed flawlessly.
A pin drop could be heard in the church as the audience appeared to be in complete awe of his vocal ranges and abilities.
Hozier is one of the few artists who genuinely sounds better live.
As the band returned to the stage, he took time to thank each and every one of them by name which was genuinely heart-warming to watch.
The informal set ended with 'Take Me To Church', the number two hit by the artist and it was, of course, completely fitting of the venue.
Overall, the night felt warm and welcoming as Hozier performed a vocally flawless set for fans in anticipation of his new album.