Kingston was filled with thousands of screaming teenage girls on Wednesday afternoon when 18-year-old heartthrob Shawn Mendes played a pop-up show at The Hippodrome.
The Canadian singer, who shot to fame in 2013 after posting song covers on Vine, played a short set hosted by Banquet Records ahead of his upcoming UK arena tour in May 2017.
Fans queued up in the cold from six in the morning to ensure they were on the front row for Mendes, whose appearance caused bad traffic after fans were queued from Kingston Hall Road all the way up to the Banquet Records shop on Eden Street.
Even though the doors opened an hour later than expected and at an unusual time in the afternoon, eager fans did not have very long to wait as Mendes' set started almost immediately after the doors opened.
The singer opened his half an hour set with 'Three Empty Words', a single from his latest album that was released last month, before continuing with some of his more well-known songs.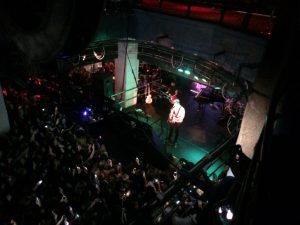 A lot of fans being unable to see due to overcrowding at The Hippodrome, with many having to stand on chairs and climb up railings on to see their idol, Mendes still received numerous screams and attention.
Mendes ended his set with an acoustic version of his UK number one 'Stitches', which he performed on a piano for the crowd.