When thinking about the spookiest night of the year, what is the first thing that comes to mind? Burning paper and incense to honour ancestors? Putting flowers on altars and eating sweet zesty bread? Wearing moustaches and pretending to be boys? Probably not, but this is how other countries go treat or treating and remember their ghosts.
With Halloween around the corner, Kingston University students are unleashing dusty vampire costumes and purple wigs to wear in house parties or scary events.
United States
The UK acquired the tradition of dressing up as monsters and asking for sweets from the US.
"In America, it's all about where you go treat or treating," explains Creative Writing and Media & Communication student Rachel Domanchich, who dressed up for Halloween every year until she was 19.
"There is this area near my hometown, it's called Stratford. There was rich Stratford and regular Stratford. If you go to rich Stratford they give you full-size candy bars. That was a big deal, that was a score," she said.
Other countries also have their own spookiest night of the year, whether it is a religious or a pagan celebration.
China
Fashion student Ziki Liu remembers going out in the streets of her hometown in China for the Ghost Festival, the "scariest celebration of the year".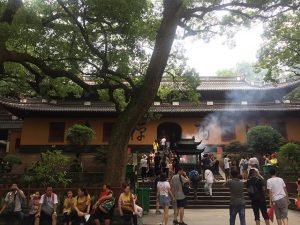 "During that day we practice some rituals to bring back our deceased relatives. We burn joss paper and incense bought from temples. We also do food offerings as a sign of respect," she continues.
"The Ghost Festival is an old Chinese religious tradition celebrated by both Buddhists and Taoists. I am Buddhist so I believe that the spirits of people deceased in this world exist. So when we burn the joss paper we could see real ghosts. It is also a very sad celebration for my family".
India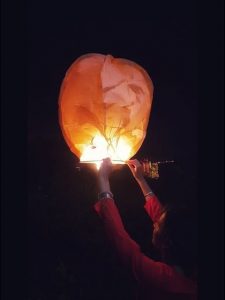 Four days before Halloween, India celebrates the victories of good over evil and light over darkness.
Traditionally, Diwali (or Festival of Lights) is the day when Lord Rama and his family came back to their hometown after defeating a demon and the people of the village made lamps from clay to welcome him back.
Shruti Singh, MA Cancer Biology student said that celebrating Diwali is the thing she misses the most now that she lives in London.
"We light our house with lights and do a pooja, which is a prayer ritual, and firecrackers," she explains. "Every time it is a very intimate celebration. I stay at home with my family and then me and my cousins go out."
Estonia
Criminology and Forensic Psychology student Carolina Nellis evokes two celebrations from her childhood in Estonia: Kadipäev on November 10 and Mardipäev on November 25.
For the first day little children, both girls and boys, dress up as girls and go trick or treating.
"We used to put fake eyelashes and a lot of blush and then go from house to house to sing, perform some rhymes, dance, ask questions about the family or tell jokes for candy, sweets and apples. Before they leave they also wish good luck for the family," she explains.
Fifteen days later, during the Mardipäev, all the children dress up as boys. "As a little girl, I used to take my father's clothes, wearing moustaches, which looked huge on me, and go around and do the same thing."
Arts and Design foundation student Nicole Kolawole explains what they do in Nigeria: "We don't celebrate Halloween in Nigeria, but there is a festival in the northern Igbo villages called the 'Awuru Odo Festival' which marks the return of the dead (Odo) of some people still living in those villages."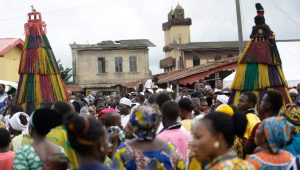 The Festival is a long celebration lasting eight months, happening biannually and devised in three stages.
The arrival of the odo usually happens in December and ritual celebrations are practised to welcome the returning spirits of the dead.
Then there are six months during which the odos stay and interact with their living relatives and visit their ancestral homes. The final stage, usually in August, is their departure, a very emotional moment as the relatives won't see the spirits of their loved ones for another two years.
Venezuela
On November 2 Mexico City's streets become stages for dancing and singing in celebration for the colourful Day of the Dead celebrations. Parades and offerings are held to remember and honour the lost loved ones.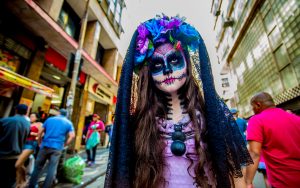 Venezuelan Computer science student Juan Rovira explains how his country acquired traditions from both Mexico and the USA.
He would trick or treat in costume (once as Spiderman for five years in a row), skulls, bats and spider webs decorated his apartment, and in shops, he remembers seeing merchandise with Day of the Dead-inspired skull designs on them.
However, the last Halloween that sticks in his mind was when he was 12 before Venezuela's economic and political crisis made it impossible.
Unfortunately, this is what happens to many countries worldwide; during times of uncertainties keeping their traditions becomes impossible.
"The tradition was lost. We didn't celebrate anything. No one decorated for Halloween, Christmas. We had other priorities, unfortunately."