It's Halloween season and Paramount Pictures have distributed the perfect film for gore lovers and not so perfect for the squeamish.
Scouts guide to the zombie apocalypse is due to be released in UK cinemas November 6 and is a cocktail of Superbad and a less emotional 28 days later.

The horror/ comedy takes us on the adventure of three Boy Scouts  Ben (Tye Sheridan), Carter (Logan Miller) and Augie (Joey Morgan) who team up with a sexy shot gun shooting cocktail waitress (Sarah Dumont) and use their scouting skills in an attempt to save their peaceful town from a zombie invasion.
From the beginning it seemed this film would be predictable and cliche and to some extent it is, but mostly there are a lot of developed ideas and spins on the stereotypical zombie movie that made it slightly more unique. The humour probably helped this.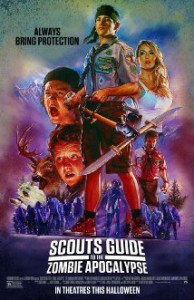 The film makers and writers created something that was jumpy and tense at the same time as gory, vulgar, romantic and hilarious which is an achievement in itself, especially as it was enjoyable and not just a mess which you would expect after such a blend of genres.
Tension is existent from the start and the story is built up instead of just jumping straight in. There is a lot (a lot) of blood and guts and gruesome scenes but the humour softens the blow. It's as if going from throwing up and covering your eyes to then being tickled.
The storyline possessed the general and much loved qualities of a zombie film but had a lot of more random moments which gave it a bit more of an edge.
Regardless, a lot of aspects of the film were cheesy and soppy and at times it felt as if too many different themes were squeezed into it.
There were other parts which felt extremely unrealistic, but to be fair dead people running around eating other humans and survivors having numerous extremely lucky escapes isn't exactly realistic in the first place.
In terms of acting, special effects and the setting, it was believable and apparent that a lot of money had been spend during the making process to reach this result. However, the general characteristics of the characters were cliche and already exist in many other films.
Overall, the film, directed by Christopher B. Landon, managed to combine lightheartedness with horror and gore which must have been hard to portray and will be very popular amongst teenagers and young adults.